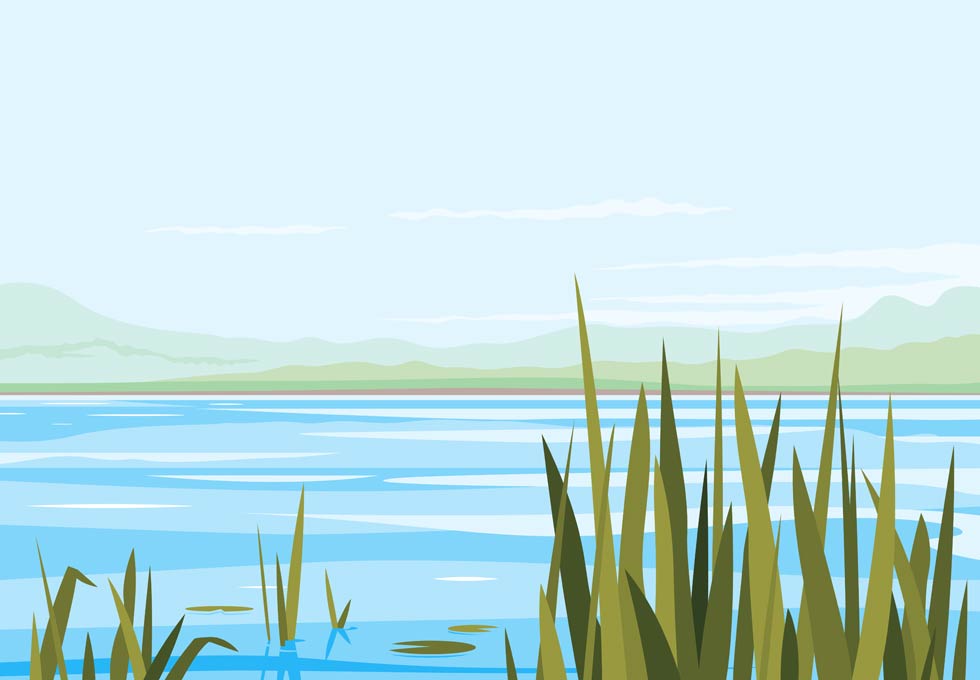 Did you know?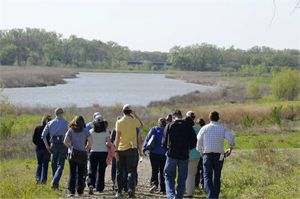 When you know better, you do better. After decades of concrete channelization and miles of pipeline tucked underground, professionals and governmental agencies are realizing our 20th Century approach to flood control was, in many instances, more detrimental than helpful to the sustainability of our environment and water supplies. Nature is a great educator and is miraculously endowed with expertly crafted engineering marvels. One of those marvels is the planet's hydrological cycle. Learning from, and then mimicking the natural hydrological cycle as a means to correct past mistakes in stormwater management is the basis for Green Infrastructure and Low Impact Development - both effective solutions to sustainable water supplies.
The U.S. Army Corps of Engineers, yes, you read it correctly, THE U.S. ARMY CORPS OF ENGINEERS Fort Worth District is taking a softer approach to flood control with their Chain of Wetlands project. It's one component of the Corps ongoing work for the Dallas Floodway. Expanding on the Lower Chain of Wetlands, excavated in 2008, the Upper Chain of Wetlands project is now under construction. These wetlands are located adjacent to the Trinity River in Dallas, between the Martin Luther King Jr/Cedar Crest Bridge and the Central Wastewater Treatment Plant. Three new wetland ponds and surrounding grasslands will occupy 90 acres just southeast of Dallas City Hall in the northern edge of the Great Trinity Forest. Assuming the role of biofiltration for reclaimed water from the Central Wastewater Treatment Plant, under normal conditions, water in these wetlands will drain through Cedar Creek - a Trinity River tributary. During flood events, the wetlands create a secondary and efficient pathway to convey floodwaters away from the heart of the city.
Primarily designed to lower flood risk for property and residents of Dallas, these new "ecosystems" will also be home to a rich and diverse native plant species that will in turn, support a rich and diverse wildflie population. Upon completion, the combined projects will cover 271 acres with 123 acres of emergent wetlands, 45 acres of open water and 102 acres of native grasslands. For urbanites coexisting with "nature," this is a welcomed step from USACE towards a kinder and balanced approachto dealing with riparian flood events. To learn more visit:
http://www.swf.usace.army.mil/Missions/WaterSustainment/DallasFloodwayExtension.aspx
What is Land Stewardship?
May 2016
Land stewardship implies environmental sensitivity, knowledge and understanding of the resources, and empowerment to sustain natural resources through management. In other words, a land steward is someone who manages his or her land to assure natural systems are maintained or enhanced for the future. Land stewards also recognize that natural resources extend beyond boundaries (e.g., fence lines, or political or government boundaries). To make correct decisions that maintain land in a "healthy" and productive condition, one must have a knowledge and understanding of natural systems. Therefore, a good land steward is someone who understands the land - soil, water, flora and fauna - he or she is managing and has the knowledge and expertise to apply techniques that enhance ecosystem function.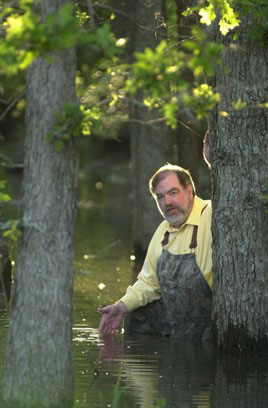 Dr. Robert McFarlane, known as "Doc" to his friends, is a native East Texan and graduate of Harvard Medical School. After returning to his childhood home in Palestine to start a cardiology practice, he discovered what was once a flourishing bottomland hardwood forest in a disheartening state of demise. In 1992, he purchased 1,000 acres of this bottomland hardwood and growing to 7,500 as surrounding properties became available. He named his place the Big Woods on the Trinity after William Faulkner's 1955 book Big Woods. After learning about federal wetland rules and mitigation processes, he started improving his land by planting trees. These efforts led to dramatic improvements in habitat and wildlife populations that earned Doc the 2001 Lone Star Land Steward award and more recently, the 2015 Leopold Conservation Award through the Texas Parks & Wildlife Department. Realizing that there were other relatively intact properties nearby, Doc saw the potential for restoring large areas in the Trinity River basin that could benefit society at large. In 2006, Doc and others in the landowner cooperative established the Trinity Basin Conservation Foundation non-profit (renamed Trinity Waters in 2011) to best take advantage of funding opportunities available from state, federal, and corporate programs. Doc served as President of TBCF for a time and is an example of how rural landowner stewardship can benefit society by providing essential ecosystem services such as drinking water, carbon sequestration, wildlife habitat, and flood mitigation.
read more